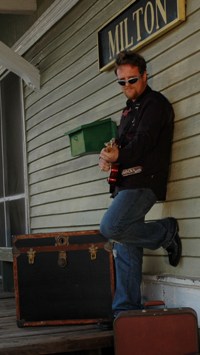 Tim McGatha
providing some of the
best Country Lead Guitar licks today. He also
sang and did backup vocals for the band.
Tim has been involved in music for the most
of his life. Born in Ohio, Tim grew up in a family
that sang and played Gospel music for many
years. From the age of eight Tim held a guitar
in his hand every Sunday Morning. Residing in
the border hills of the Carolina's, Tim is married
to group member Reshana Marie (McDowell).
Tim is a member of the band, "Reshana Marie".
If music and owning his own diesel shop is not
enough to keep him busy, they also have two lively
young boys, Dalton Michael and Dylan James.

At home on the stage, Tim has it all with an
abundance of ability and a great stage performance!