Tasha (McDowell)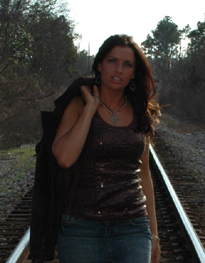 A lead vocalist, and plays keyboard. Tasha
has been professionally involved in music since
she was 13. Born 1981 in Fort Wayne, Indiana,
Tasha moved with the family to Florida in 1987.
There she spent the rest of her years growing
up, and resides there to this day. Today she is
a certified IDC Staff instructor, a single mom
raising three children, Madison Taylor, Paige
Ashton and son Brayden Matthew, If that isn't
enough to keep her busy she's graduated with a
Bachelor of Science in clinical psychology,
a minor in sociology, and a certificate in behavioral
forensics, and is excelling with a 3.8 GPA. She is
currently working on her Master's.


Tasha singing with Reshana Marie on backup vocal


Tasha comes alive when on the stage and with a
smile that will melt your heart and a voice
that could soothe the savage soul…
this one always commands attention !